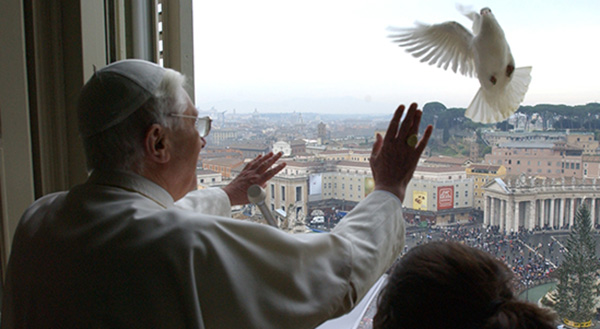 Education for a culture of peace: the role of the family and institutions
I wish to reaffirm forcefully that the various peacemakers are called to cultivate a passion for the common good of the family and for social justice, and a commitment to effective social education.
No one should ignore or underestimate the decisive role of the family, which is the basic cell of society from the demographic, ethical, pedagogical, economic and political standpoints. The family has a natural vocation to promote life: it accompanies individuals as they mature and it encourages mutual growth and enrichment through caring and sharing. The Christian family in particular serves as a seedbed for personal maturation according to the standards of divine love. The family is one of the indispensable social subjects for the achievement of a culture of peace. The rights of parents and their primary role in the education of their children in the area of morality and religion must be safeguarded. It is in the family that peacemakers, tomorrow's promoters of a culture of life and love, are born and nurtured.
Religious communities are involved in a special way in this immense task of education for peace. The Church believes that she shares in this great responsibility as part of the new evangelization, which is centred on conversion to the truth and love of Christ and, consequently, the spiritual and moral rebirth of individuals and societies. Encountering Jesus Christ shapes peacemakers, committing them to fellowship and to overcoming injustice.
Cultural institutions, schools and universities have a special mission of peace. They are called to make a notable contribution not only to the formation of new generations of leaders, but also to the renewal of public institutions, both national and international. They can also contribute to a scientific reflection which will ground economic and financial activities on a solid anthropological and ethical basis. Today's world, especially the world of politics, needs to be sustained by fresh thinking and a new cultural synthesis so as to overcome purely technical approaches and to harmonize the various political currents with a view to the common good. The latter, seen as an ensemble of positive interpersonal and institutional relationships at the service of the integral growth of individuals and groups, is at the basis of all true education for peace.
A pedagogy for peacemakers
In the end, we see clearly the need to propose and promote a pedagogy of peace. This calls for a rich interior life, clear and valid moral points of reference, and appropriate attitudes and lifestyles. Acts of peacemaking converge for the achievement of the common good; they create interest in peace and cultivate peace. Thoughts, words and gestures of peace create a mentality and a culture of peace, and a respectful, honest and cordial atmosphere. There is a need, then, to teach people to love one another, to cultivate peace and to live with good will rather than mere tolerance. A fundamental encouragement to this is "to say no to revenge, to recognize injustices, to accept apologies without looking for them, and finally, to forgive",
in such a way that mistakes and offences can be acknowledged in truth, so as to move forward together towards reconciliation. This requires the growth of a pedagogy of pardon. Evil is in fact overcome by good, and justice is to be sought in imitating God the Father who loves all his children (cf. Mt 5:21-48). This is a slow process, for it presupposes a spiritual evolution, an education in lofty values, a new vision of human history. There is a need to renounce that false peace promised by the idols of this world along with the dangers which accompany it, that false peace which dulls consciences, which leads to self-absorption, to a withered existence lived in indifference. The pedagogy of peace, on the other hand, implies activity, compassion, solidarity, courage and perseverance.
Jesus embodied all these attitudes in his own life, even to the complete gift of himself, even to "losing his life" (cf. Mt 10:39; Lk 17:33; Jn 12:25). He promises his disciples that sooner or later they will make the extraordinary discovery to which I originally alluded, namely that God is in the world, the God of Jesus, fully on the side of man. Here I would recall the prayer asking God to make us instruments of his peace, to be able to bring his love wherever there is hatred, his mercy wherever there is hurt, and true faith wherever there is doubt. For our part, let us join Blessed John XXIII in asking God to enlighten all leaders so that, besides caring for the proper material welfare of their peoples, they may secure for them the precious gift of peace, break down the walls which divide them, strengthen the bonds of mutual love, grow in understanding, and pardon those who have done them wrong; in this way, by his power and inspiration all the peoples of the earth will experience fraternity, and the peace for which they long will ever flourish and reign among them.
With this prayer I express my hope that all will be true peacemakers, so that the city of man may grow in fraternal harmony, prosperity and peace.